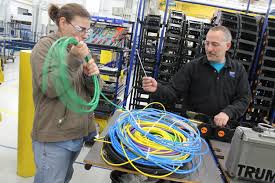 At TRUMPF In Farmington, An Opportunity For Work
April 01, 2014 | By SAVANNAH MUL, smul@courant.com, The Hartford Courant
FARMINGTON — Cristina St. Amand works in the assembly department at TRUMPF Inc., where she assembles parts for a 2D laser machine.
St. Amand has intellectual disabilities, but she's been successfully working at TRUMPF since September.
She works with three other women, all of whom have intellectual disabilities, on the production floor. They are clients of Favarh, the Arc of the Farmington Valley, an organization that helps disabled children and adults.
Cathy Shanley, director of employment services at Favarh, first visited TRUMPF about eight years ago and since then has wanted to place workers at the Johnson Avenue manufacturer. The family-owned German company makes fabricating equipment and industrial lasers.
"My career aspiration is to have a crew here," Shanley said. "I saw the value of having a crew here."
Shanley and Favarh coworker Christopher Edge are responsible for finding locations where the group's clients can work.
Annette Doyle, the machine assembly manager at TRUMPF, said the workers from Favarh contribute to a large distribution network: "What their hands touch gets exported all over the world."
Doyle said the laser machine St. Amand builds parts for, the TruLaser 1030, is only made at the TRUMPF location in Farmington. The group of four women, the only females on the production floor, are integrated into the assembly of the machine, a laser cutter.
She said it takes six days to produce one TruLaser 1030 machine and one machine is finished every day.
Doyle emphasized that assembling the parts for the TruLaser 1030 was work already performed at the factory and the position wasn't created to fit the four women's needs.
Three women assemble sheet metal parts into a block called a slat. The slats become the base inside the TruLaser 1030 machine where sheet metal is placed to be cut by a laser, Doyle said.
"They come to work excited and already. They are surpassing our expectations," Doyle said, "and we integrated them into much more complex assembly."
St. Amand, who started manufacturing slats for the TruLaser 1030 in September, was moved soon after her start date because of her capability to do more intricate work, she said.
"I love it here," said St. Amand, who feeds cables into a cable chain called a motion unit. The motion unit is used to move the laser, which cuts the sheet metal, Doyle said.
The cable chain is placed inside each TruLaser 1030.
"They're really surprising everyone with their capabilities," Doyle said.
St. Amand said every Tuesday, the women are sent to work on the pallets, where the four women attach a small mechanism to the pallet frame that holds the slats they produce.
"I like that job," St. Amand said. "It's something different to do every week."
Accompanying the four women to work every day is job coach Melanie Thompson, who has been with the team since September.
"It's a great partnership," Thompson said. "The people are generous and willing to help when we need it."
When the team first began work in September they went through a training period where sub assembler John Wiecek at TRUMPF helped them understand their responsibilities.
On their work table Wiecek drew out a diagram, which helps the women put together the pieces that are placed inside the TruLaser 1030.
"I worked with them and helped them out," Wiecek said. "I think they're doing a great job. They build quite a few a day."
Doyle said they are required to make 10 slats each day, but surpass that amount.
TRUMPF locations in Germany uses people with intellectual disabilities and wanted to do the same in the U.S., Doyle said.
Stephen Morris, executive director of Favarh, said they match people's skills and interests with what employers need.
"People with intellectual disabilities are not only capable, but motivated and reliable. They are working and are proud of it," Morris said. "The ladies are an integral part of the assembly."
Morris said the challenging factor Favarh faces is finding employers who are willing to give Favarh a chance.
TRUMPF is the fourth manufacturing firm Favarh works with. Favarh also has crews working at manufacturing companies in Bristol and one in Meriden.
TRUMPF Inc. has been in America since 1969 with locations also in Michigan and New Jersey.