Scott's Corner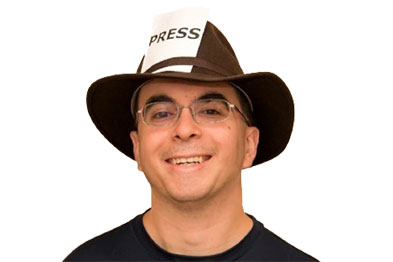 Employing Young Adults with Intellectual Disabilities – A Testimonial
By Scott Masson
Recently I went to the Legislative office building in Hartford, Connecticut to testify in front of legislators at a hearing. The hearing was called by the IDD Caucus and was about telling your story in front of legislators and families. The letters IDD stand for Intellectual and Developmental Disability.
I testified about job opportunities and employment for people with disabilities who have a difficult time finding a job. This was my first time testifying and it was a success. I talked about working at Economy Springs in Southington as part of a five person work crew. The four other workers and I are part of an organization called Favarh, where people with IDD are supported. But not everyone supported by Favarh has a job to go to everyday or gets paid every two weeks like I do.
I love going to work at Economy Spring because I know I'm going somewhere every day to work and get paid. I have been coming to Economy Spring for almost 2 years now with my fellow co-workers and a job coach named Julie. I have made a lot of friends there who are very supportive, helpful and friendly.  Economy Spring is a great place to work because everyone treats you like family and you fit in.
More places like Economy Spring should hire people with disabilities because it's good for business and brings happiness to the company. I want Economy Spring to spread the message to other businesses and tell them to have no fear hiring people with IDD because they matter too.
In closing, I want to thank my friends Lou, Tara, Charlie, Joe, Laura, Filomena, Jackie, Brenda, and Johnathon for welcoming us into the Economy family.
---
Tim LeGeyt Returns To Board Of Selectman
By Scott Masson
Tim LeGeyt has returned to the Canton Board of Selectmen, taking one more step in his life in public service. He was first on the board while teaching second grade at Cherry Brook School, but then retired from his 29-year teaching career and ran – and won –a seat in the state House of Representatives representing Canton and Avon. He served in the Connecticut legislature for 10 years before retiring a year ago as a state representative. Now he has returned to his political roots. Mr. LeGeyt just won election – again – as a Canton selectman.
Mr. LeGeyt enjoyed teaching, helping young students to learn and grow in life. He described being a legislator like being a teacher for his constituents. 
He is talking about two different projects he will concentrate on now that he is a selectman again. The first project will be to renovate the power house in Collinsville to generate enough electricity.  The other project is creating more restaurants and parking spaces around Lasalle's Market and the Crown and Hammer in Collinsville. 
"The way the town of Canton and the state can help is by expanding the transportation system to aid those that need it," he noted, explaining that senior citizens have Dial-A-Ride, but there also needs to be transportation for people with intellectual and developmental disabilities (IDD).
Mr. LeGeyt pointed out that Favarh – The Arc of the Farmington Valley – has joined with a developer to build an integrated housing complex for both non-disabled people and those with IDD on Commerce Drive, Canton.   The tenants with IDD in that complex will need transportation, he said.
---
BeanZ: A Place Where Everyone Belongs  
 
By Scott Masson 
Published in the Valley Press  - August 16, 2019
 
A Place Where Everyone Belongs: This is the motto of BeanZ & Co., an inclusive cafe that employs young adults with intellectual and developmental disabilities (IDD). This small business has captured the hearts and minds of many people throughout the Farmington Valley in its first seven successful months.  
 
BeanZ was established in December 2018 by Kim Morrison and Noelle Alix in the New England Pasta Company on Route 44 in Avon.  New England Pasta, in turn, was founded in 1994 by Kim and Scott Morrison.  Kim and Noelle were inspired to open BeanZ because of their daughters, Megan Morrison and Cate Alix, who both have Down Syndrome.   
 
The cafe has 18 employees evenly divided between staff members without disabilities and those with disabilities. The cafe is an inclusive place where customers can eat breakfast and lunch.  The countertop at BeanZ is lowered for those with disabilities.  The cash register has a simple system for everyone to use, including those who may need help making change.  
Kim and Noelle talked about their slogan, with another friend one night, and they came up with. "Everyone Belongs."  
 
BeanZ is a welcoming cafe.  As soon as customers walk in they are greeted with happy employees.  
TV news stations such as Fox61, NBC 30 and WTNH have been coming to check out BeanZ. The owner, Kim, is hopeful BeanZ will be even more successful as a result of the media attention.  BeanZ has already changed the public's opinion on people with IDD.  
 
The staff at BeanZ have become a family, helping each other out if they need help.  The employees at the cafe with IDD include Lauren Traceski, Jessica Sahlman and Nick Sinacori, all members of Favarh – The Arc of the Farmington Valley.  Lauren's primary job at BeanZ is to serve customers their food and cleans tables and sometimes to operate the register.  Jessica buses the tables and Nick runs the register.  The BeanZ crew from Favarh has a job coach named Yojaria Evans.   
 
"It's a great experience working at BeanZ," said Lauren. "And it feels good to get a paycheck."   
 
"It's awesome to work at BeanZ," added Nick.  
 He noted that when he goes to bed at night he can't wait to get up and get back to work with a smile on his face.  
 
!!!Everyone Belongs!!!
 
---
The Dangers of Plastic-Foam Containers
By Scott Masson
Plastic-foam containers have been around for many years.  We use them to store our food and restaurants and catering businesses all around the world use them so customers can carry their leftovers home. But these containers are made with chemicals like styrene; chemicals linked to cancer.  
Because our foods are exposed to the chemicals in plastic-foam, there can be a devastating effect on our nervous systems, memory and concentration, vision and hearing. But it's not just we humans who are threatened by plastic foam. The environment is also threatened when plastic foam is disposed of at landfills or tossed in the sea, endangering land animals as well as fish and sea mammals.
Plastic foam pollutes our oceans.  Many people just don't realize how harmful plastic-foam containers and plastic bags are to the ocean. But they aren't the only plastic articles that are harmful to the oceans: so are plastic straws. Estimates are that plastic-foam containers, plastic bags and straws could take as long as a million years to decompose. 
We humans must become more aware of these hazards to our environment, especially the impact on our beloved animals.  The fewer plastic bags and plastic-foam containers we use, the better off the environment will be. 
I'm all for banning plastic-foam containers and plastic bags. Who's with me? We need to protect our environment not harm it. So the next time you're eating out or just picking up something from the grocery store think about what you're using and stop yourself from doing it.  Do the right thing and don't use these harmful products!!!!
Let's Save Earth, our Home !!!!
.