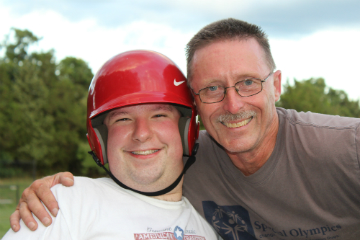 The Mission
To Help Each Person Achieve His or Her Personal Best.
The Vision
We recognize that disability is a natural part of the human experience. Our vision is of a future where people with Intellectual and Developmental Disabilities are fully integrated into the broader community and have the supports needed to be productive, to live as independently as possible, and to have a healthy and active lifestyle.
Values
People First

WE BELIEVE that people with intellectual and developmental disabilities are defined by their strengths, abilities and inherent value, not by their weaknesses or by disability. We focus our services and supports on strengths.

Community

WE BELIEVE that people with intellectual and developmental disabilities belong in the community and have fundamental moral, civil, and constitutional rights to be fully included and actively participate in all aspects of society.

Safety

WE BELIEVE in creating a "Safety First" culture where individuals are provided the right to experience the 'dignity of risk and failure' but where "health & safety" risks are anticipated, planned for, and mitigated.

Wellness

WE BELIEVE that it is our responsibility to create and promote environments that foster healthy and active lifestyles. To this end, we endorse Increased Physical Activity, Improved Nutrition, and Enhance Emotional Well-being throughout the organization and beyond.

Families

WE BELIEVE that a healthy tension can exist between what parents feel is best for their son or daughter, what Favarh professionals feel is best, and what the son or daughter feels is best. Our role at Favarh is to listen to and appreciate everyone's point of view and work towards compromise based on our mission, vision, and values.

Professionalism

WE BELIEVE that professional and collaborative behavior among and between employees, customers, partners, volunteers, and our various stakeholders should be the standard.

Program Quality and Fiscal Responsibility

WE BELIEVE in balancing quality programs and supports with sound fiscal management.