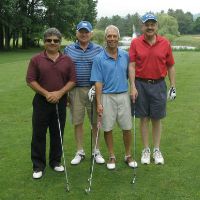 The Arc of the Farmington Valley, Favarh, recently held their 18th annual Golf Tournament at the Tunxis Plantation Country Club in Farmington.
Farmington Bank has generously sponsored the Favarh Golf Tournament for 18 years. Todd Piro, the NBC CT morning anchor golfed and hosted the after golf reception and dinner.
In addition to Farmington Bank, Favarh would like to recognize, and thank, the tournament sponsors, Edmunds Gages, Resources Management Corp., Great American Donut Inc., May, Bonee & Walsh, The Friends of Erin, J. Frank Travis, Paines, Inc., The Casle Corp., Diane Brown, KAMAN Corp., A. R. Godbout & Co., The Rideshare Company, Rockville Bank and the Mitchell Auto Group for their support.
Favarh has been helping children and adults with intellectual and developmental disabilities achieve their personal best since 1958. Proceeds from events, like the golf tournament, directly benefit valuable programs and services Favarh provides. To learn more, visit http://www.favarh.org.
If you are interested in attending Favarh's next fabulous fundraiser on Nov. 21 at the Riverview in Simsbury, featuring "All Access" a Canadian Show Band, dinner, open bar, silent auction and more, contact Ronelle Cipolla, 860-693-6662 ext. 116 or rcipolla@favarh.org.
Jean Miller, Favarh, The Arc of the Farmington Valley
Photo: Farmington Bank foursome, Ross Fingold, Bob Ciraco, Leo Gagne and Paul LaMonica. (Nancy Cullum / July 24, 2014)